Meet the Southern Comfort IV
 The Southern Comfort IV is a pristine 48-foot Chesapeake Deadrise with a 16-foot beam. She is a U.S. Coast Guard Licensed side-rail fishing vessel with twin 670 horsepower Cummins Diesel engines.
On the exterior of the boat, we have plenty of bench seating, a large overhead shade canopy in the fishing area, and trolling outriggers that allow private charters to be able to drift fish and troll fish if desired.
Our interior boasts a full-size air-conditioned salon area, a beautiful and clean restroom, and lower deck bunk beds. We have a full working kitchen with a stove, microwave, refrigerator, sink, and running water. The indoor full-size table with bench seating and two large passenger chairs provide comfort and luxury to all of our customers.
You are truly traveling in style and class with us!
What makes our boat so special?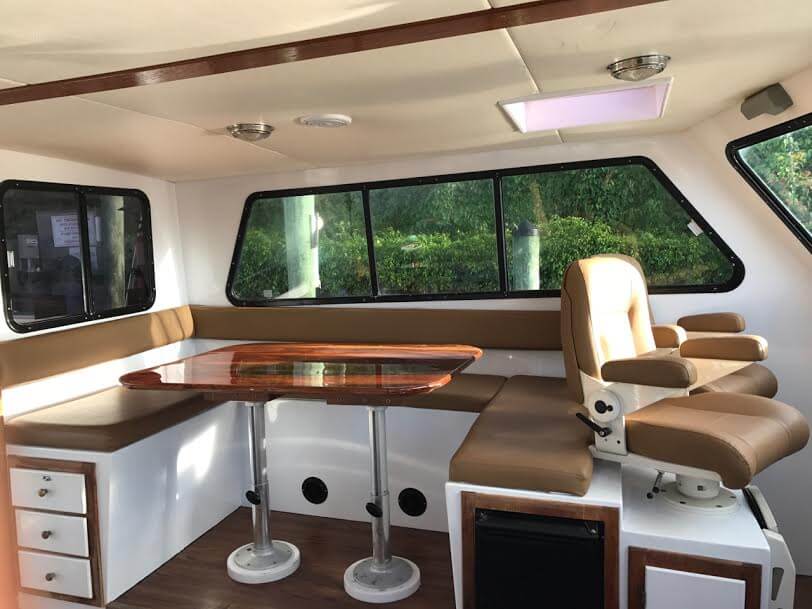 Our boat is unlike any of the other drift boats in the area. Interior table seating and first-class amenities make our boat the perfect choice for group parties, holiday events, or any special occasion. Our boat is large enough to accommodate up to 22 guests! For fishing charters we can carry up to 12 guests.
Our twin diesels cruise around 19 knots to get you out to the fish fast! We set sail from the closest location to the Boynton Beach Inlet, which lets us arrive at the fishing hot-spots faster and lets you fish longer than any other drift boats in the area.
We are the Southern Comfort IV and WE GET YOU TO THE FISH FAST AND ALWAYS WITH CLASS!
The 'Southern Comfort IV' Name
John and Sandra chose to name the boat the Southern Comfort IV for two different reasons. First, in honor of John's father, the famous Captain Herbie Schulz. Herbie ran the Southern Comfort I, II, and III, which were well-known sport-fishing charter boats out of the Boynton Inlet here in South Florida. Herbie was a fishing legend and operated his charters from the 1940's until 2001. That's over 60 years of fishing and serving his community as an honored and trusted Captain! Please browse our dedication page for Herbie Schulz to have a closer look at some of the catches from the good ole' days!
The second reason for calling the boat the Southern Comfort IV - the name says it all……relaxing in the Florida sunshine, drifting the aqua blue waters of the Atlantic Ocean, reeling in that prized fish, or enjoying a family celebration while taking in the sights of the Intracoastal Waterway.